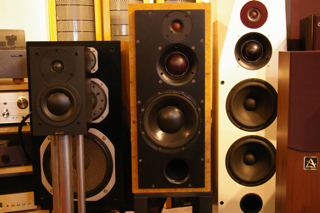 Speakers
Take a look at our vintage and quality hi fidelity
From the most delicate and unobtrusive bookshelf right through to the room commanding big boys we have an inspiring selection of speakers available.
Often changing and often rare you will be hard pushed to find a larger variety within one shop.
There are, among all styles of speaker, the real icons of sound such as Quad Electrostatics and Rogers LS3/5A's which have stood the test of time and spawned a new generation of like minded manufacturers willing to incorporate new technologies and materials into classic designs.
We embrace both the old and new.
A prime example of this is idea is the highly regarded and celebrated Sterling Broadcast LS3/5A V2 which we believe to be a genuine "new classic". Along side these and other new speakers we can offer a cornucopia of classics such as Yamaha NS1000's , Tannoy Chatsworth and Martin Logan SL3 and Aerius i right through to many a fine pair of Linn Sara Isobarik's.
Our intention is to match the possible change of speaker to the system, the room and the client (and with a following wind supply something acceptable to the wife who has, more than in any other area of hi-fi, an unusually large influence!)